After 2 years, SUPPLYSIDE WEST (hereinafter referred to as SSW2021) has once again returned to the public's attention. This exhibition was held on October 27, 2021 in Las Vegas, USA-3950 Las Vegas Blvd. South Las Vegas-Mandalay Bay Convention Center, USA. The exhibition area reaches 20,000 square meters and the number of exhibitors reaches 15,000. The number of exhibitors and exhibitors reached 1,300.

SSW2021, sponsored by Virgo Publishing Inc. of the United States, is a large-scale professional exhibition of raw materials for pharmaceuticals and health products in the United States, mainly based on plant extracts, functional food raw materials, pharmaceutical raw materials, beauty cosmetics raw materials and health product raw materials. In order to meet the growing customer demand and market share, more and more manufacturers are looking for innovative and healthy ingredients. The annual SSW held in Las Vegas is the best local platform in the United States.

HERB GREEN HEALTH USA INC., a branch of HERB Green Health Biotech Co., Ltd. located in LA, USA, participated in this exhibition together with our old friend Vitajoy USA INC.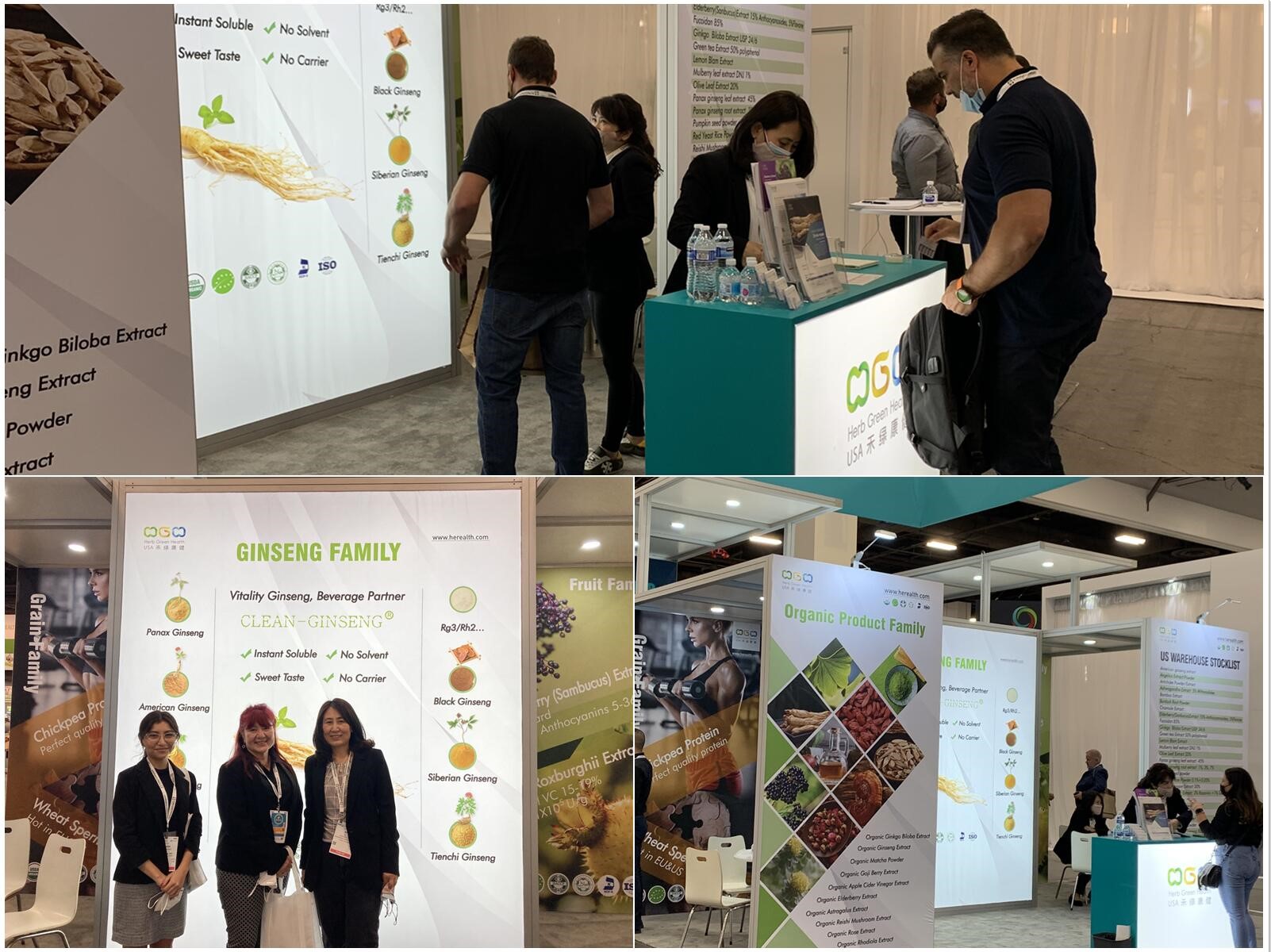 In this show, HERB GREEN HEALTH continues to promote our company's star product- Ginseng family. 

Since its establishment in 2011, HERB GREEN HEALTH has been deeply involved in the processing of ginseng products and has the world's leading patented technology for removing pesticides and residues. A series of ginseng products represented by low pesticide residues ginseng extract. The pesticide residues of the products meet the pharmacopoeia standards represented by USP and EP, the European Food Industry Standard Regulation (EC) No 396/2005, and the FDA pesticide residues standards of the US Environmental Protection Agency. Our products are sold to countries and regions with higher regulations and standards such as Europe and the United States.

In recent years, HERB GREEN HEALTH has produced new fruits in the in-depth development of ginseng, such as rare ginsenosides: Rg3, Rh2, CK, and ginseng peptides with good nutrition and absorption, black ginseng extract with exclusive patent technology, and American ginseng extract with raw materials imported from North America, etc.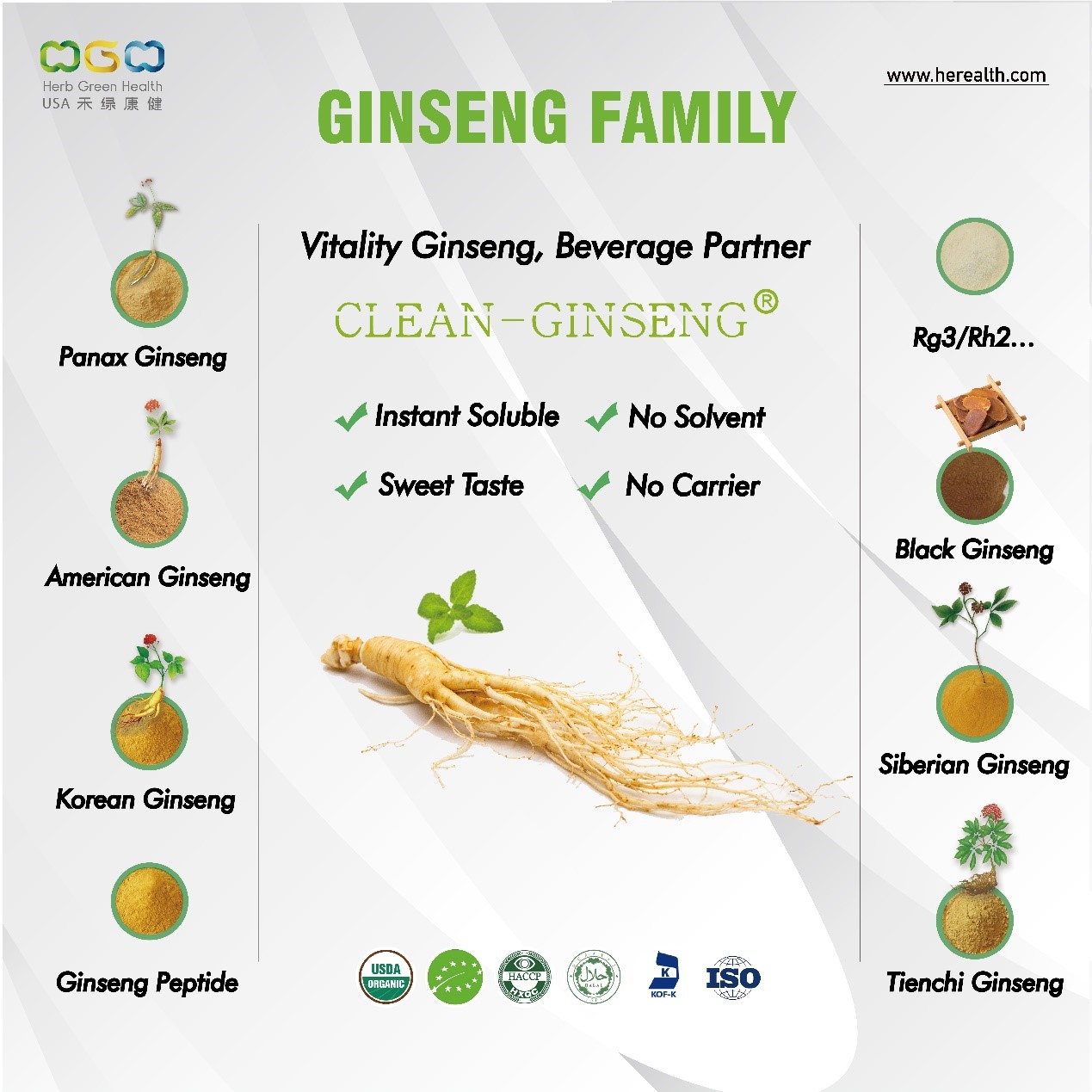 CLEAN-GINSENG®
In all of our new products, what we are most proud of is CLEAN-GINSENG®, a newly developed ginseng root extract, which is mainly applicable in beverage products. 


Why CLEAN-GINSENG®?

1. Excellent solubility: 5g CLEAN-GINSENG® can be completely dissolved in 100mL of water, the dissolved solution is clear and transparent, and has good stability.

2. Good taste: Compared with the bitter taste of conventional ginseng root extract, CLEAN-GINSENG® obtained by patented technology has more natural ginseng small molecule polysaccharide, which makes CLEAN-GINSENG® taste sweet and refreshing, so that the beverage would be favored by the majority of young people.

3. Safer procedure: only water is used as the processing solvent in the entire process of CLEAN-GINSENG®, and the final product is 100% from ginseng, without any external auxiliary materials.

4. More nutrition: After comparing the ingredients of conventional ginseng root extracts in the market, it is found that the vitamin B contained in CLEAN-GINSENG® is 8-10 times that of conventional varieties, 5 times of amino acids, and nearly 20 times of ginseng polysaccharides.
 



To learn more about CLEAN-GINSENG® product information, please click on the product link below: //www.herealth.com/products/product-detail/5144093740890777.html

Addition to the ginseng family, we also brought 3 series of plant extract products, namely "organic family", "mushroom family" and "berry family".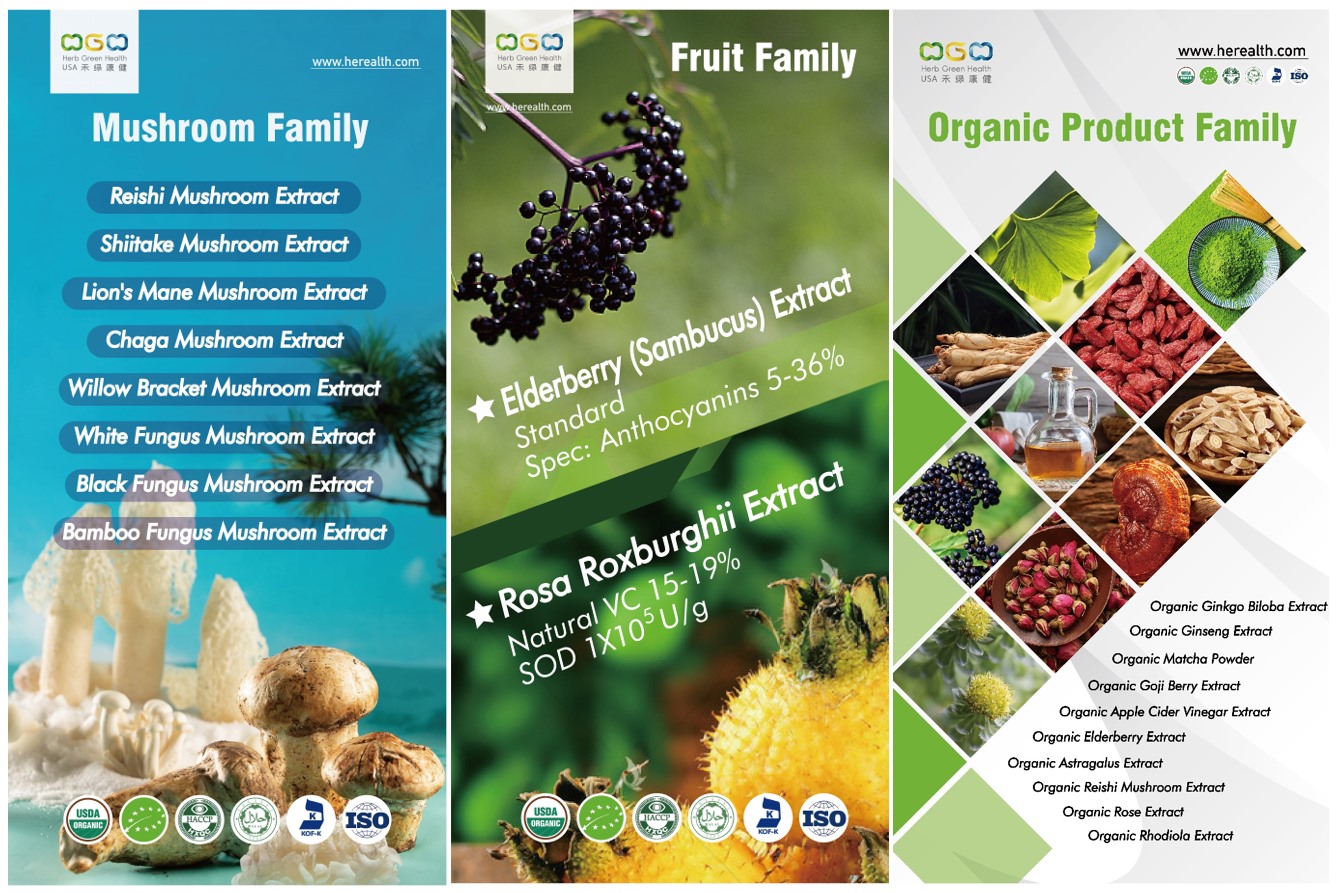 Mushroom Family
 
Lots of mushrooms have a long history of consumption all over the world. Mushroom contains high content of polysaccharides, which have been generally recognized as having the effect of improving immunity. 

Take Ganoderma lucidum (Reishi mushroom) as an example. Ganoderma lucidum has a history of edible/medicinal use for thousands of years in China. The triterpenoids contained in Ganoderma lucidum has the function of anti-tumor, protecting the liver, lowering blood sugar and lipids, and enhancing the functions of mononuclear phagocytes and NK cells and other aspects have shown strong activity. HERB GREEN HEALTH has many years of experience in the production of Ganoderma lucidum extract. We can provide up to 30% of Ganoderma lucidum triterpene products, as well as Ganoderma lucidum formulation product, whose ratio of triterpene/polysaccharide have been verified with efficiency. 
 
Berry Family

As a daily food, berries have been increasingly used in antioxidant products in recent years. Berry products represented by European bilberries, blackcurrants, and cranberries have become more and more widely used in food supplements.

Since the development of the epidemic, elderberry, a previously unfamous berry, has come close to the public's attention. In European and American countries, black elderberry has been used to treat colds and fevers. It has a history of 2500 years and can be traced back to the ancient Greek era BC. Elderberry is rich in bioflavonoids and anthocyanins, which can inhibit the activity of hemagglutinin (HA) and neuraminidase (NA) of the virus, thereby preventing the invasion and spread of the virus. Herb Green Health uses black elderberry raw materials imported from Europe and currently has the most complete specifications of elderberry extract inventory in stock.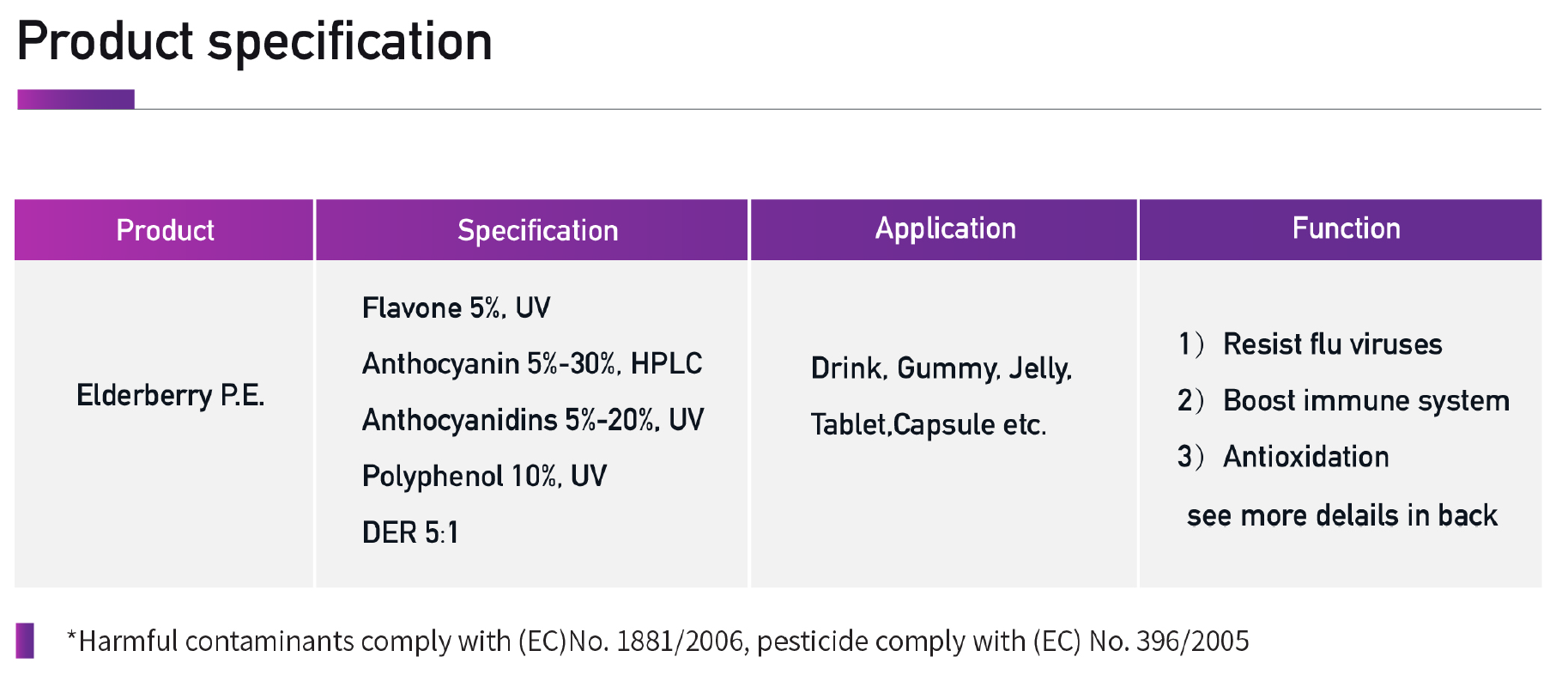 Organic Family
With the improvement of people's understanding of healthy living, Organic food has become the choice of more and more people. Herb Green Health has been developing organic herbal extract since 2017. Till now, we're the leading factory producing organic herbal extract in China now. Especially for Europe market, we can provide the product with corresponding COI/TC, which can be checked on TRACE system.

Herb Green Health insist producing product with good quality and giving our customer most responsible before and after sale service. And we're glad to have a face-to-face meeting with all friends here in Las Vegas. Let us have a date in Anaheim soon in March, 2022.