Brief introduction of Ginseng Extract in USP
Powdered Asian Ginseng Extract is prepared from Asian Ginseng by maceration, percolation, or both processes performed at room temperature with suitable solvents such as alcohol, methanol, water, or mixtures of these solvents, and by concentrating the fluidextract at temperatures be-low 50°. It contains NLT 3.0% of ginsenosides Rg1, Re, Rb1, Rc,Rb2, and Rd combined, calculated on the anhydrous basis. Research has showed that ginsenosides have many functions to people's health, such as two-way regulating affection to central nervous system, improving body adaptation, anti-shock, regulation effects on cardiovascular system, liver, endocrine system and metabolism ability. Therefore, Ginseng is known as "the King of Herbs". Over centuries, ginseng has been considered as an important component of Chinese traditional medicine in China.
Plant Extract Market Trends in USA and CHINA
Plant extract, as a core material and product of biological medicine, is wildly used in food addictive, herb medicine, and function food, cosmetic and so on. In 2015, the exports of plant extract reached 2.16 billion dollars, an increase of 21.71%. The past 3 years, with more than 30% annual export growth, China's plant extracts become the new features in world's export food and agricultural products.
Since 1994, USA published DSHEA (Dietary Supplement Health and Education Act of 1994), which meant FDA officially accepted plant extract as a food supplement, the exports of plant extract have kept developing with high growth of more than 15% for many years, and plant extract market quickly formed a pure natural, green, organic, healthy new industries. For now, plant extract is very popular in USA, Europe (Mainly in Germany and France), China, India, South Korean, Japan and Brazil. For past years' export data, USA, Japan, Korea, and Germany are China's major importer of plant extracts. Nowadays, taking dietary supplements is associated with the living habits of most people in developed countries. The United States plant extract consumption accounted for more than 60% of the world, and 70% of the raw plant material needs, including herbs and plant extract, is depending on importing from other countries. Because of the big consumption and import demands, USA has become the bellwether of the global plant extract industry; the fluctuation of USA market demands can affect the world market in other countries directly.
Chart-1 Worldwide big plant extract factory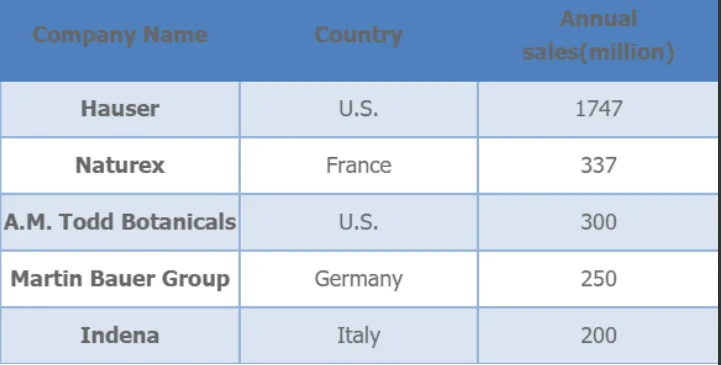 Chart-2 Global plant medicine and plant extract market condition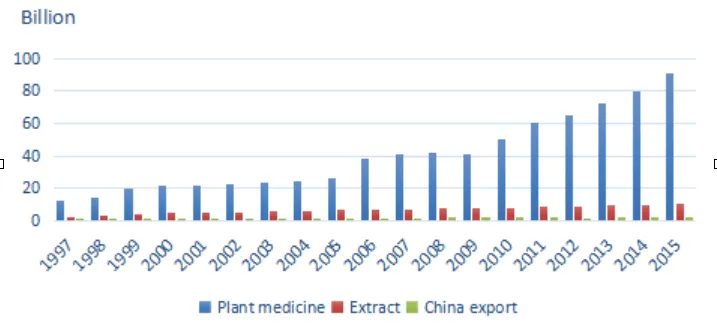 For nowadays, the challenge for China's plant extract in the worldwide market is mainly from the safety test. In recent years, the European Union, the United States, Canada, Japan and other countries and regions have been established organic agriculture regulations, standards, regulations and certification for health products. It can be predicted that the future, plant extract industry production will be intensive and standardized, and the application of plant extracts will continue to expand, the production specifications continue to enrich, each big factory will become to produce their own advantages product. At the same time, extract standards will be gradually standardized and globalized.
Planting Condition Introduction of Ginseng
Ginseng is one of the 11 species of slow-growing perennial plants with fleshy roots, belonging to the genus Panax of the family Araliaceae. As a perennial herbaceous plant, ginseng usually grows in cool, moist environment and mostly grows in the needle and broad-leaved mixed forest or mixed forest, or mountain at the altitude of 500-1100 meter with small temperature change between day and night. Ginseng is suitable for cultivation in the annual average temperature of 2 ~ 8℃, frost-free period of 110 ~ 150 days. So, ginseng can mainly grow in northeastern monsoon region, such as northeast China, North Korea, South Korea, Japan and so on.
Changbai Mountains is the most important gene pool located across Jilin, Liaoning and Heilongjiang Provinces, and its latitude position, average temperature, annual precipitation and soil composition are ideal growth and reproduction places for planting ginseng. The fresh ginseng production in Jilin Province accounted for 80% of China's fresh cucumber in 2012 production of 20,000 tons. With Changbai County, Fusong County, Antu County, Dunhua City, Ji'an County as the core of the "nine counties and four cities" Planting area, Jilin Provinc has about 6,000 hectares of ginseng planting area. Moreover, the content of total ginsenosides and amino acid in Chinese ginseng are better than Korean red ginseng.
August 29, 2012, according to the "People's Republic of China Food Safety Law" and "New resource food management approach" provisions, ginseng (artificial cultivation) is approved as the new resources of food. Since then, people can buy ginseng in the ordinary supermarket.
Output and Price Changing Trend of Ginseng in Chinese Market
With the gradual improvement of people's living standards, the demand for health products is growing as well. At the same time, some western countries began to develop the application of Chinese herbal medicines. Many factors show that the demand for ginseng will gradually increase in future. But in China, the main producing areas of ginseng, the state begin to pay attention to the protection of the natural environment; government will implement many policies like banning the reclamation of forest land, returning farmland to forests. Therefore, the cultivation area of ginseng will be reduced in the next few years.
In brief, before the comprehensive promotion of ginseng cultivation technology, the ginseng demand is increase, while its production is reduced, during this period, the price of ginseng herb will rise.
In 2015, China's fresh ginseng production was 31.8 thousand tons, output increased by 28.6% over the same period in 2014; 2015 China's dry ginseng total output of 9.1 thousand tons. According to China's customs data statistics: in 2015 China's fresh ginseng export volume of 14.7 tons, the export value of $ 209,000; 2015, China's fresh ginseng import volume of 31 tons, the import value of $ 1,079,000.
Chart-3 Analysis of Fresh Ginseng Quantity Demand in China, 2010-2015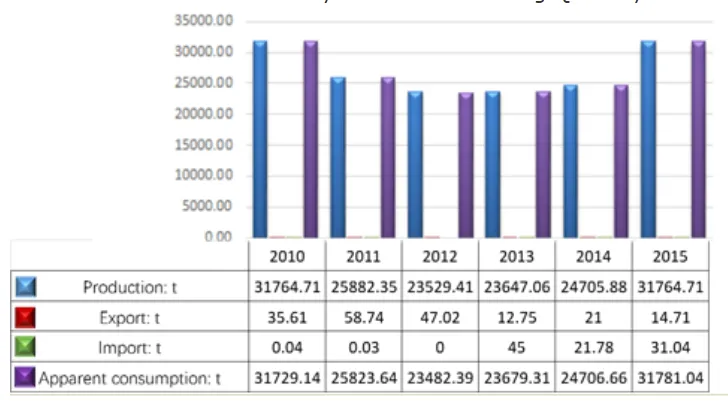 Chart-4 Price Trend of Ginseng in 1990-2016(Jilin Province)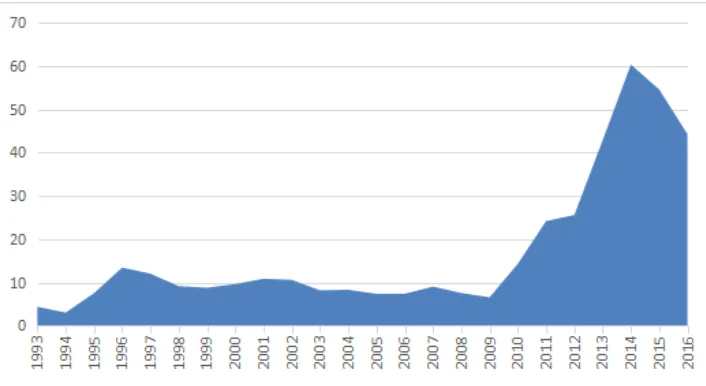 Description of Ginseng Pesticide Residue Problems in China
In recent years, EU, USA, Canada, Japan and other countries and regions have established organic agriculture rules, standards, regulations, thus certificated healthy products. In past years, ginseng extracts exported from China have been returned for many times, which seriously influence the reputation of China's plant products in international market. The reason for the above phenomenon is mainly due to the abuse of pesticide during ginseng cultivation and lack of pesticide residue detection during quality control.
Pesticide Residues Removal Technology
For the special ginseng cultivation condition in China, the price of pesticide-free raw ginseng herbs is quietly expensive, and the difference of pesticide residue level between batches is significant. So, it's necessary to develop a stable and effective technology to remove the pesticide residues deeply. At present, the common technology used to remove pesticide residues mainly includes 2 methods: organic solvent extraction method and resin method, but the removal effect of above methods is unsatisfactory, the results are still hardly comply with EC. Ganzhou Herb Green Health Biotechnology Co., Ltd(HGH) creates a unique macroporous resin, which can be used to remove the pesticide residue in ginseng extract to free, the effect is significant
Chart-5 Ginseng Extract Products Produced by HGH