1 Formulation     
    On April 24, 2022, Guangdong Qingyunshan Pharmaceutical Co., Ltd. participated in drafting and formulating the declared industry standard of "Maca Powder" which passed the approval of the Ministry of Industry and Information Technology of the People's Republic of China and will be officially implemented on October 1, 2022.
2 Industry standards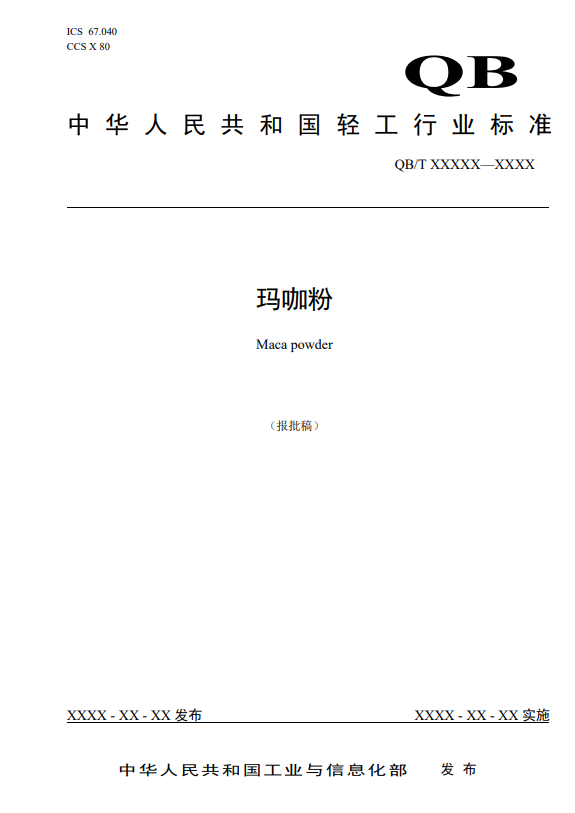 This document is drafted in accordance with the provisions of GB/T 1.1-2020 "Guidelines for standardization work Part 1: Structure and drafting rules for standardization documents".
This document is proposed by China Light Industry Federation.
This document is categorized by the National Technical Committee for Standardization of Special Diets (SAC/TC 466).
This document was drafted by Guozhen Health Science and technology (Beijing) Co. , Ltd. , China Food Fermentation Industry Research Institute Co. , Ltd. , Guangdong Food Industry Research Institute Co. , Ltd. , Tomson Times Co. , Ltd. , Guangdong Qingyunshan Co. , Ltd. , Yantai New Era Health Industry Co. , Ltd. , productivity promotion center of food industry, perfect (Guangdong) Daily Necessities Co. , Ltd. , Infinite Pole (China) Co. , Ltd. , Morninglight Biotechnology Group Co. , Ltd. , Jimei University Food and Bioengineering Institute, Lijiang Chenghaibao bio-development Co. , Ltd. .
The main drafters of this document are: Cao Mengsi, Li Aimin, Duan Shenglin, Zhou Fangmei, Wei Xian'e, Gan Zhengrong, Wu Xiaolei, Xia Kai, Yu Xiaoyi, Sun Hongmei, Cheng Yuanxin, Zhou Yongbo, Xu Qingshan, Shi Lihua, Ye Rijin, Li Zhen, S Congcong, Wang Tong, Yuan Peng, Liang Shuming, Li Zhen, Jiao Liwei, Liu Guangming, Tan Yinhong, Ye Shaowen, Li Yan, Liu Ming.
This document is published for the first time.
 
  Over the years, Guangdong Qingyunshan Pharmaceutical Co., Ltd. has joined hands with the China Academy of Food and Fermentation Industry, Guangdong Food Industry Research Institute and other scientific research institutes to conduct systematic research and technical research around the deficiencies in various aspects such as active parts of maca, functional efficacy, concoction process, quality identification, quality control standards, herbal medicinal properties and deep processing of products.
    The standard specifies mustard oil glucoside and maca amide as the main evaluation indexes for the quality of maca, and sets out detailed testing and evaluation methods.












3 Introduction



    Established in 1989, Guangdong Qingyunshan Pharmaceutical Co., Ltd. is a high-tech enterprise integrating the R&D, production and sales of plant extracts, functional foods, health food and pharmaceuticals, and is committed to raw material innovation, technological innovation and finished product innovation.
    The official release and implementation of the industry standard "Maca Powder" is of great significance in regulating the quality of raw materials and products, promoting the healthy development of the maca industry and protecting the rights and interests of consumers. Qingyunshan Pharmaceuticals will continue to uphold the concept of "technological innovation is the core driving force of enterprise development" and provide customers with better quality, safer and more valuable health products with a scientific R&D path, strict control system, differentiated market positioning and rich business experience, giving full play to the leading role of scientific and technological innovation.