Natural Product Expo West, which was postponed for two years because of the COVID-19, will be back in Anaheim March 8-12, 2022! The expo area exceeds 100,000 square meters, the number of exhibitors is nearly 3,000, and the number of audiences is expected to exceed 60,000 from 110 countries.

The American Natural Products Expo is the world's largest expo of natural, organic and health products. It has a history of 40 years. It is divided into two sessions: east and west. Every year, it attracts many buyers from the United States, Europe, Asia, South America and even Africa. Relying on the huge nutrition and health industry market in the United States, the expo has become the best platform for purchasing best-selling food and health care products in North America, and it is also a display platform for many natural food and health care product brand giants in the United States. The scope of this expo mainly includes the following aspects:

1.    Natural raw materials: plant extracts, animal extracts, amino acids, pharmaceutical raw materials, fine chemical products, active ingredients, biocatalysts, hormones, vitamins, food additives, functional food raw materials, etc.

2.    Dietary supplements: various vitamin supplements, dietary supplements, minerals, meal replacements, energy supplements, antioxidants, nutritional drinks.

3.    Natural and organic foods: green food, organic products, organic meat, gluten-free food, soy products, dry food, cereals, alcohol, dairy products, beverages, water, snacks, instant foods, etc.

4.    Natural food ingredients: spices, seasonings, pigments, additives, colorants, sweeteners, etc.

5.    Natural and organic pet food: natural and organic pet food and treats.

6.    Cosmetics: natural and organic skin care products and cosmetics.

7.    Daily necessities: yoga mats, water bottles, organic cotton clothing, health care equipment, nursing equipment, toys, etc.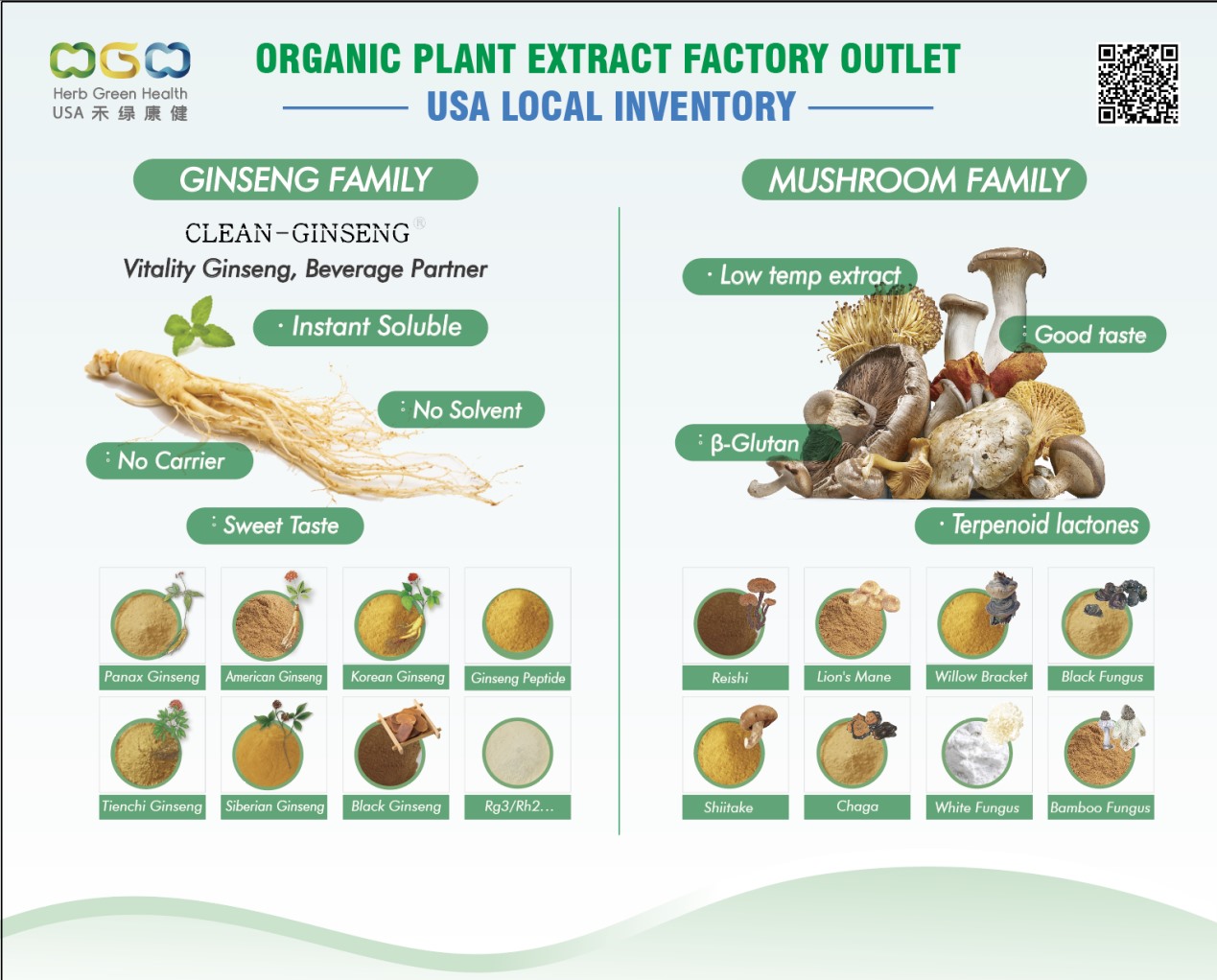 Herb Green Health Biotech Co., Ltd. is an enterprise that has been deeply engaged in the natural plant extract industry for 12 years. Our company has passed ISO22000, ISO9001, USDA/EU ORGANIC, KOSHER, HALAL and other international quality system certifications. As the pioneer of low pesticide residue and organic plant extract in China's plant extraction industry, our company has always insisted on research and innovation, especially in the single category of low pesticide residue ginseng extracts, which has maintained a leading position for many years. Herb Green Health has always implemented the selection of authentic Changbai Mountain ginseng raw materials, patented process processing. The final products meet the requirements of customers in countries including the United States, Europe, Japan, South Korea and other countries with strict requirements on pesticide residues. In 2021, our annual export volume of ginseng extract has exceeded 60 tons. Herb Green Health is one of the largest ginseng extract exporters in China, achieving a breakthrough of 13 million US dollars in sales.

In this expo, HERB GREEN HEALTH USA INC. will bring the company's main products - organic ginseng series and mushroom series to participate. The booth number is 3610. In addition, a slew of new products are about to arrive at the LA warehouse. To get the latest inventory information and exchange the dynamic trends of popular products in the market, we are waiting for your visit at booth 3610!