The 2023 Natural Products Expo West Expo will take place March 7 through March 11, 2023, and will be hosted by Anaheim Convention & Exhibition in Los Angeles, California. The venue is 75,715 square meters, with 60,000 square meters of exhibition space, 43,000 attendees, and 1,100 exhibitors and brands. Location in USA - California - 800 W. Katella Ave., Anaheim, CA 92802, - Anaheim Convention Center
Exhibits range
Natural and organic beverages: fruit and vegetable juices, teas, diet beverages, non-alcoholic beverages, lactic acid beverages, etc.
Nutritional products: vitamins and diets, minerals, weight loss products, sports nutrition, sexual health products, nutritional beverages
Natural care: cosmetics, skin care, hair care, spa products, aromatherapy, massage, baby care, etc.
Baby products: baby household cleaning products, baby laundry products, baby cosmetics, baby face, body and bath products, baby food, baby furniture, baby health, safety and monitoring, baby medicines, baby oral hygiene, baby supplements, home decor and supplies, etc.
Natural/functional/organic food and ingredients. Green health foods and ingredients, functional foods, fresh fruits and vegetables, green food additives, organic teas, specialty foods, fortified foods, fine foods, cooked meat products, frozen foods, soy products, dehydrated foods, grains, organic meats
Herb Green Health Biotech Co., Ltd. is a company that has been deeply engaged in the natural plant extract industry for 12 years. The company has passed ISO22000, USDA/EU ORGANIC, KOSHER, HALAL and other international quality system certifications. As the pioneer of low pesticide residue and organic plant extracts in China's plant extract industry, the company has been insisting on research and innovation, especially in the single category of low pesticide residue ginseng extract, which has maintained its leading position over the years. Herbal Green Health has always pursued the selection of authentic Changbai Mountain ginseng raw materials and patented technology for processing. The final product meets the requirements of customers in the United States, Europe, Japan, Korea and other countries with strict requirements on pesticide residues.
This time we will bring our main products to the exhibition, they are ginseng series, berry series and mushroom series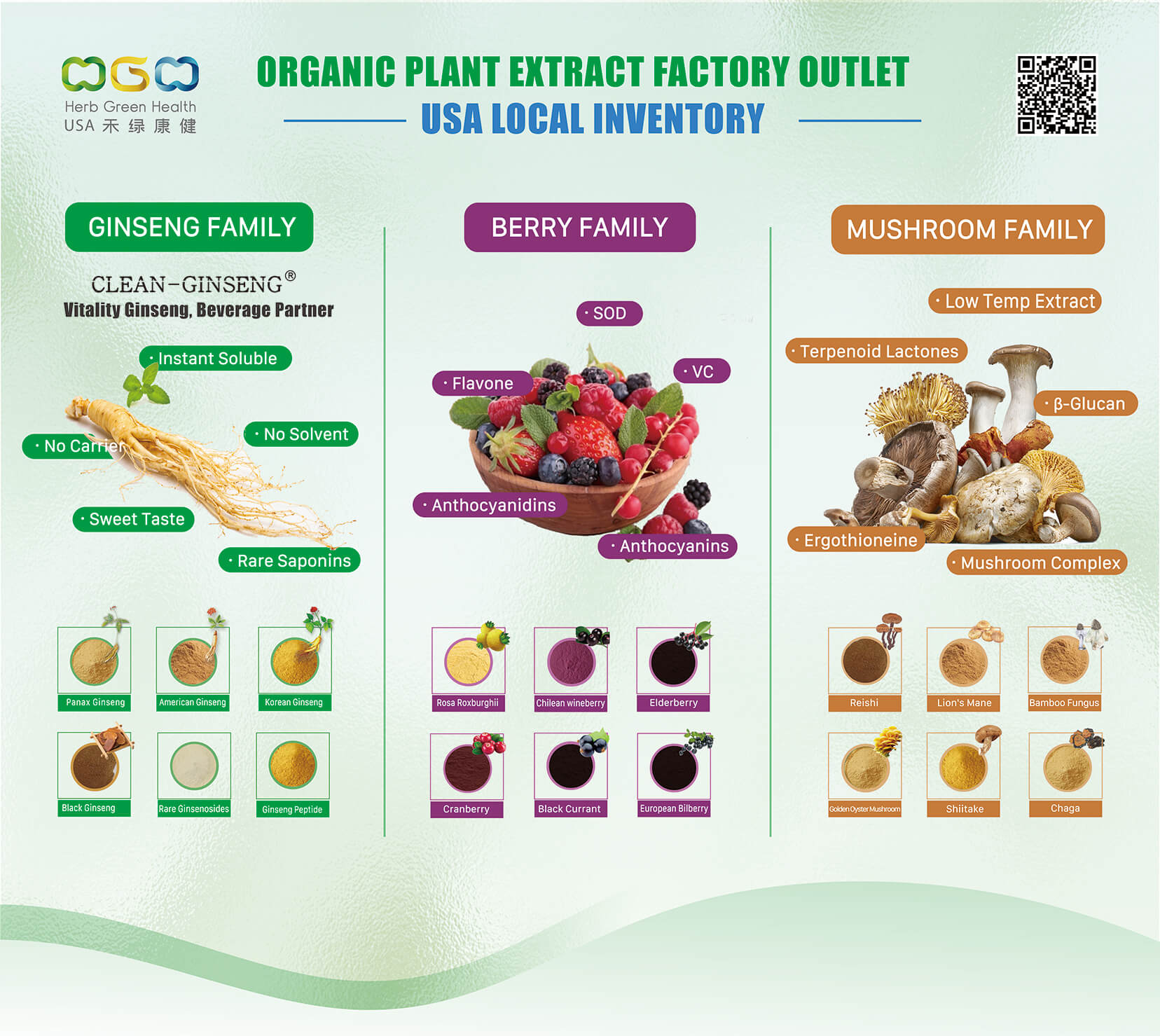 Ginseng Family
The "Ginseng Family" has been the star product line of Herb Green Health Biotech Co., Ltd. for many years. Its main advantage is based on the company's self-developed patented de-slagging technology, which can effectively control pesticide residues, leachate residues, polycyclic aromatic hydrocarbons, plasticizers, heavy metals and other harmful ingredients in ginseng extracts. The company's ginseng products are exported both at home and abroad and are also well received in the industry.Not only We have rare gonsenoside,rg3,ginseng peptide,we also have korean ginseng,black  ginseng ....differint kinds ginseng products.
Mushroom Family
Mushrooms have a long history of consumption all around world, and have been used in the field of functional foods for many years. Our company has taken the lead in the comprehensive utilization of the active ingredients of Ganoderma lucidum extract. In recent years, it has been expanded to include varieties of Lion's Head Mushroom, Golden Needle Mushroom, Flat Mushroom, Shiitake Mushroom, Double Spore Mushroom and Edible Mushroom, evolving into a series - "Mushroom Family". Compared with conventional mushroom extracts in the market, the organic mushroom series launched by our company offers more possibilities to develop high-end health products for the European and American markets.
Berry Family
The Berry Family have so many new and advantaded extracts,Our rosa extract is a pure natural extract accompanied by 17% vitamin C with 100000U/g SOD; 15% polyphenols. We have various sizes of elderberry, which can be customized according to your needs, and we also have organic extracts of berries such as chokeberry, cranberry and blackcurrant, in sprayed powder form ,juice powder and freeze dried powder.
In addition, with the improvement of our intelligent chain, we can customize OEM and ODM products in different dosage forms according to your needs, and we have developed a variety of finished products in functional series, welcome to inquire for customization!
At the expo, HERB GREEN HEALTH USA INC. will be at Booth #3610. In addition, a series of new products will be arriving at the Los Angeles warehouse soon. To get the latest information about our inventory and to exchange dynamic trends of popular products in the market, we are waiting for your visit at Booth No. 3610!